With the theme "New normal state – New opportunities for Vietnam tourism", VITM international tourism fair Ha Noi 2002, held by Vietnam tourism association from March 31st to April 3rd is a significant event for the tourism sector to recover after nearly 3 years afflicted by COVID-19 pandemic. Phu Yen tourism sector and the travel, tourism enterprises take advantage of this event to advertise, exchange, connect tourists to the "yellow flowers on green grass" land.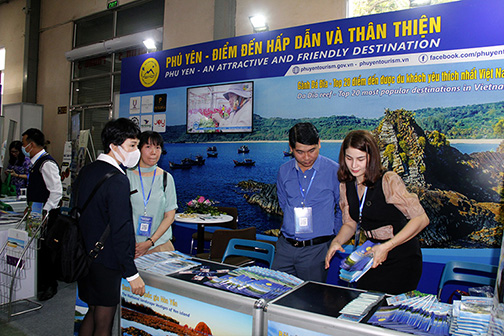 The stall for advertising, introducing Phu Yen tourism at VITM Ha Noi fair 2019
During the 4 days that the event took place, there were such noteworthy activities of "recovering Vietnam tourism-new orientations, new actions", the conference on human resources in tourism sector in the period of Vietnam tourism recovery, the conference on developing the tourism forms of golf tourism, the contest of applying online tourism and introducing sports tourism.
Taking part in VITM Ha Noi 2022 in the difficult context, with the expenses for covering the annual promotion of tourism sector, Phu Yen tourism sector registered the shared stall of the sector and some local enterprises.
 "AT VITM Ha Noi 2022, the department of culture-sports-tourism coordinated with Phu Yen tourism association to register two stalls. During the fair event, the tourism sector introduced Phu Yen tourism potentials using videos, images, photos; introducing the investment opportunities, the publications advertising tourism (tourism book, tourism map, folded brochures…); introducing some products for tourists, like: souvenirs, OCOP products, Phu Yen province's specialties", Mr Nguyen Trung Tin, Vice director of Phu Yen province's center of informing-promoting tourism, let known.
12 enterprises in the sectors of tourism accommodation, travel of the province included 4 resorts, hotels (Stelia Beach, Sao Mai, Rosa Alba, Sài Gòn Phú Yên), 5 travel agencies, 1 restaurant (rice in hot pot Nam Anh) and 2 agricultural and tourism cooperatives (An My agriculture and community tourism cooperative), Dong Din agriculture and general trading cooperative). The enterprises and units advertise the brand names with images, folded brochures, catalogues, tour programs. Simultaneously organizing the activities between buyers and sellers, with programs of discounts or introducing, selling tourism products…
According to Mrs Nguyen Thi Thanh Thuy, Director of An My agriculture and community tourism cooperative, taking part in VITM Ha Noi 2022, the cooperative introduced the rural, simple and organic agriculture-tourism products with the brand name Moc Mien. "For ages, Moc Mien's customers have known and accepted the completely organic, ecological agriculture-tourism products, namely: rural accommodation place, sinking feet into herbs, walking to the beach and go swimming, one day working as a farmer…; having meals with organic rice, clean vegetables, fresh seafood; experiencing games, traditional folk games…At the fair this time, An My cooperative continued to advertise the ecological and agricultural tourism products, organic agriculture, simultaneously introducing to customers lots of traditional Phu Yen traditional specialties, like: Quan De wine, grape seaweeds, salt with "e" leaves, oceanic tuna, particular seafood…", Mrs Thuy said.
Source: Phu Yen Newspaper
Translated by HAI LOAN