After two years of silence due to the COVID-19 pandemic, the 16th International Tourism Expo Ho Chi Minh City (ITE HCMC 2022) taking place from September 8th-10th was an opportunity for Vietnam tourism, the localities and tourism businesses in the country in general to meet and introducetheir products to international friends.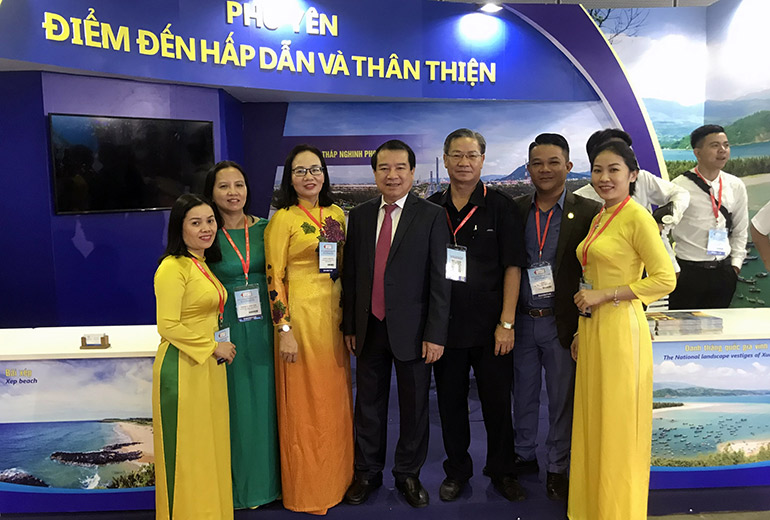 Deputy Director General of Vietnam National Administration of Tourism, Mr Ha Van Sieu (fourth from left) is taking souvenir photos with delegates at the Phu Yen Tourism booth
ITE HCMC 2022 had the theme "Standing, going up together" with the main goal of recovering and promoting the development of the international tourism market to fully restore the tourism industry after the epidemic period.
ITE HCMC 2022 provided an opportunity for groups of sellers and buyers to meet to exchange product information and offers.
Phu Yen Tourism industry participating in the expo organized many outstanding activities to introduce attractive local tourism products and services at the booth; especially, organized the program to introduce and perform the intangible culture of Bai choi art, perform the Tuy An rock percussion concert – the rock percussion set has the most standard sound scale among the rock percussion sets discovered in Vietnam – dating back over 2,500 years, attracting a large number of tourists. On this occasion, 10 businesses dealing in tourism, travel, restaurants, hotels, and destinations of the province together participated in the expo to enhance exchanges and cooperation to welcome domestic and international tourists to Phu Yen in the next time.
Ms Huynh Thi Thu Tuyet, In charge of sales of Sala Hotel Group, provided: "We have introduced to international partners and buyers about Sala Hotel Group's resort and accommodation products in Phu Yen and Da Nang; the beautiful destinations and sceneries of Phu Yen are highly appreciated by them. There will be specific cooperation in the future."
"We have made an appointment to meet and interact with many domestic travel agencies and international buyers to inform about high-class coastal resort product and service in Tuy Hoa – Stelia Beach Resort. In which, many partners from Korea, Thailand, Myanmar… are very interested in the products of ecotourism, culture, beach resort of Phu Yen in general and Stelia Beach Resort in particular," informed Mr. Le Duy Long, Deputy Director of Sales and Marketing, Viet Beach House Investment and Trading Joint Stock Company.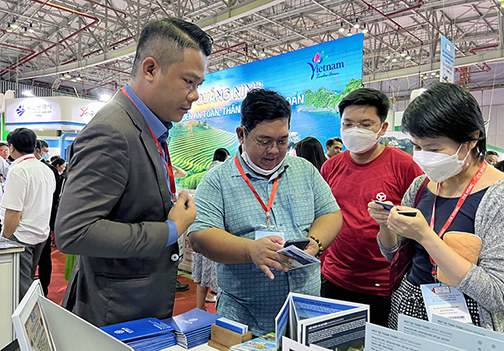 Mr Le Duy Long (left), representative of Stelia Beach Resort is introducing the products of the unit and Phu Yen tourism to customers
Acknowledging the effectiveness of ITE HCMC 2022, Chairman of Phu Yen Tourism Association, Mr Ho Van Tien emphasized: "The expo took place in the context of tourism recovery after the COVID-19 pandemic, attracting a large number of domestic and international buyers, with the expectation of developing the flow of international tourists. Phu Yen Tourism industry had made a good impression in the eyes of visitors when bringing to the expo the typical cultural features of the rock percussion performance, Bai choi art, and Cham dance. Here, businesses interacted with many domestic and international partners, opening up opportunities for cooperation. I think the biggest gain is that localities and businesses in Phu Yen as well as other places had brought images, information about tourism and indigenous culture to customers, especially international travel."
ITE HCMC is not only an event to promote tourism among countries and territories as well as business opportunities among tourism businesses but also about art and culture; contribute to introduce the image of the country and people of Vietnam to friends from other countries in the region and around the world.
Source: Phu Yen Newspaper
Translated by HAI LOAN