In Tuy Hoa city, the Ho Chi Minh City Tourism Association and the Phu Yen Tourism Association have organized a connection conference of tourism development between the two localities in 2022.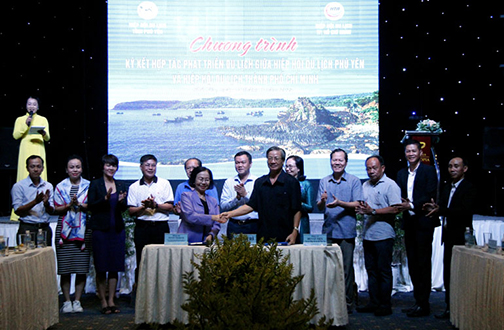 Ms Nguyen Thi Khanh, Chairman of Ho Chi Minh City Tourism Association, and Mr Ho Van Tien, Chairman of Phu Yen Tourism Association signing a cooperation agreement to connect tourism development of the two localities in the witness of leaders of Phu Yen Provincial People's Committee and delegates
Phu Yen is a land with charming natural sights, many unique, interesting and attractive landscapes; many beautiful beaches, which is convenient for eco-tourism and beach resorts; with hundreds of historical and scenic sites at provincial and national levels, of which there are the two special national monuments of Da Dia reef scenic relic and Nhan tower architectural and artistic relic.
The unique feature of Phu Yen culture is the interweaving and interference of many different cultures with more than 30 ethnic groups living together, creating rich folklore nuances, many traditional festivals, unique folk songs, folk dances, ethnic instruments such as double drums – triple gongs – five-gongs, rock lutes, etc. These factors have created the beauty and attractiveness of Phu Yen province.
At the conference, leaders of the Ho Chi Minh City Tourism Association and tourism businesses highly appreciated the potentials and strengths that Phu Yen tourism possesses; at the same time, contributed many ideas and proposed solutions for tourists to come to Phu Yen more and more.
In particular, many proposals suggest that Phu Yen tourism industry should focus on: Developing resort tourism, agricultural tourism, ecological tourism, cultural and spiritual tourism; increasing investment attraction and upgrading types of high-class services, recreational games at sea; further strengthening the promotion and positioning of Phu Yen's image; developing nightlife entertainment activities, etc. Especially, it is proposed that Phu Yen province should develop thematic tours associated with tuna products.
Previously, the Ho Chi Minh City Tourism Association and Phu Yen province organized a famtrip delegation to survey Phu Yen tourism products in two days for businesses to experience some of the province's key tourism products and destinations.
Addressing at the conference, Vice Chairman of the Provincial People's Committee, Mr. Dao My affirmed that the famtrip and the conference to connect tourism development between Ho Chi Minh City and Phu Yen are very necessary and important in the current context, in order to promote tourism cooperation between the two localities.
On behalf of the leaders of the Provincial People's Committee, Mr. Dao My thanked the support and help of the Ho Chi Minh City Tourism Association, and received all comments and suggestions at the conference. The locality will have special meetings to have specific solutions, soon overcome limitations and obstacles, in order to develop Phu Yen tourism more strongly, becoming a key economic sector of the province.
Source: Phu Yen Newspaper
Translated by TRINH THUY