Continuing the program of linking tourism development with Ho Chi Minh City, recently, Phu Yen Tourism Association and Ho Chi Minh City Tourism Association have organized a famtrip program in Phu Yen province. In the activity, the two sides held a conference to promote and connect travel businesses of the two localities in order to attract domestic and international tourists to Phu Yen province.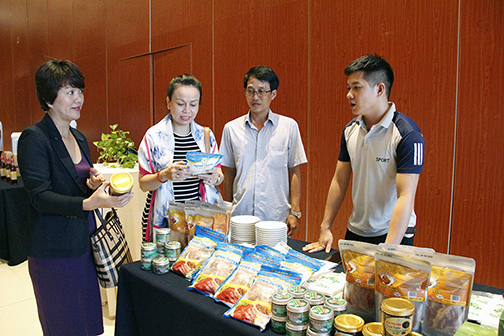 Ho Chi Minh City travel and tourism businesses learning about and trying Phu Yen's specialty dishes and OCOP products
Phu Yen is a land with charming natural sights with many unique, interesting and attractive landscapes; many beautiful beaches, convenient for eco-tourism and beach resorts. The uniqueness of Phu Yen culture is also an important factor in creating a beauty that attracts tourists. Along with that, Phu Yen has a plentiful culinary treasure, dishes with rich aftertaste, fresh seafood dishes, meeting the three-in-one requirement: delicious – nutritious – cheap. In particular, it is impossible not to mention the culinary dishes made from ocean tuna. Along with O Loan blood cockle, tuna has been recognized by the Vietnam Record Book as the top 10 best seafood dishes in Vietnam. Recently, Phu Yen officially set two Vietnamese records at the same time as "101 dishes from ocean tuna" and "100 dishes from Song Cau lobster".
Mr Do Quoc Thong, Vice Chairman of the Ho Chi Minh City Tourism Association, said that after two years of shutting down due to the COVID-19 pandemic, Phu Yen tourism has been recovering with many fresh products and still has a lot of potential capabilities and advantages. "During the two days, the survey team was able to experience up to 22 scenes and tourism attractions, which are very diverse and impressive. From Tuy Hoa city to points within a radius of 50km, it is quite convenient to design a tour. The most obvious change of in Phu Yen tourism recently is the development of accommodation services, the number of 4-star and 5-star hotels has increased. Phu Yen beach is so beautiful, right along the sea of Tuy Hoa city is a great space, when there are not too many high-rise buildings. It is very suitable for the development of seascape tourism. Tuy Hoa city has also formed and operated night streets and night markets, creating the necessary abundance for tourism," said Mr Thong.
Also, through the perspective of experts, those who are directly involved in tourism, tourism in Phu Yen province still has many limitations.
The opinions of the famtrip delegation from Ho Chi Minh City was that the Phu Yen tourism industry should focus on: Developing resort tourism, agricultural tourism, ecological tourism, cultural and spiritual tourism; increasing investment attraction and upgrading high-class services and recreational games on the sea; further strengthening the advertising and promotion, positioning the image of Phu Yen; developing night economy with entertainment activities, etc. Especially, tourism businesses from Ho Chi Minh City are very fond of Phu Yen cuisine. Ms Nguyen Thi Kim Lan, Director of Vien A Travel and Trade One Member Limited Company, said: "I used to enjoy tuna eyes cooked with Chinese traditional medicine, which is very delicious. I am always proud and promote this dish to my friends and company's guests. This time back, it is known that Phu Yen has set a record of 101 dishes from tuna, which makes me admire. Phu Yen should build cuisine into a special product in the travel journey."
According to Mr Do Quoc Thong, besides promoting local strengths and enriching tourism destinations and products, Phu Yen needs to closely connect with tourism businesses in Ho Chi Minh City to welcome foreign tourists.
Vice President of Vietnam Tourism Association, President of Ho Chi Minh City Tourism Association, Ms. Nguyen Thi Khanh affirmed: The potential and strength of Phu Yen tourism is great with many highlights, but there are also many limits. In this Famtrip, we have the opportunity to survey and re-evaluate tourism products, services, destinations, and at the same time offer specific solutions to overcome limitations, open up cooperation between businesses in the two localities.
Source: baophuyen.vn
Translated by TRINH THUY