For many past years, the tourism industry has organized tuna culinary shows, attracting the attention of many domestic and international tourists and tour operators, most recently at the Tourism Festival in Ho Chi Minh City. Since then, a good idea to promote Phu Yen tourism is to organize a tuna festival.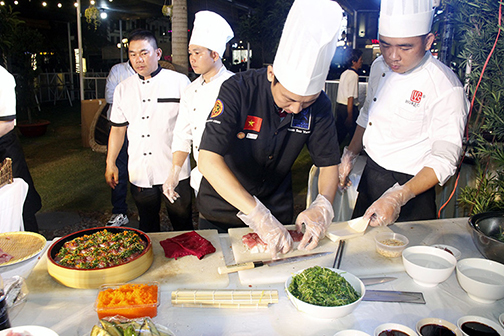 Super chef Pham Son Vuong (Ho Chi Minh City) showing off his talent in making a dish from Phu Yen ocean tuna
When coming to Phu Yen province, experts in tourism and cuisine all affirm that the seafood dishes here are rich, delicious and with a very unique taste. In particular, dishes made from tuna are the symbol, contributing to bringing the Phu Yen Tourism brand far away. Phu Yen tuna is in the top 10 of seafood dishes in Vietnam by the Vietnam Record Book Center, which was searched, voted and announced in 2014.
Phu Yen tuna cuisine: Delicious and famous
According to the Vietnam Record Book Center, ocean tuna is found in some central waters, but Phu Yen is considered the cradle, where the tuna fishing industry was discovered. The dishes made from tuna are enhanced by the chefs into delicious, typical and famous dishes. In particular, two dishes that cannot be missed are the tuna with raw salad dressing and wasabi, and the branded tuna eye dish with medicinal herbs. Many gourmets, culinary experts and famous chefs at home and abroad all confirm: Enjoying dishes from tuna in Tuy Hoa city (Phu Yen province) is the most delicious, distinctive and stylish!
Before the COVID-19 pandemic, 2019 was considered a successful year for Phu Yen tourism and cuisine from tuna. Phu Yen tuna is held in many places, attracting special attention of travel agencies and domestic and international tourists.
After the COVID-19 epidemic has been controlled and activities have been reopened, at the 2022 Ho Chi Minh City Tourism Festival which was just held, the Phu Yen tourism industry continued to attract the special attention of tourists. guests, travelers, and culinary experts by performing and inviting to try dishes from tuna, at the festival stage of Le Van Tam park.
An ocean tuna caught from Phu Yen fishing grounds with a weight of 70kg, "boarded" a plane to fly to Ho Chi Minh City to serve the event. Chef Nguyen Van Bong, Head of the Phu Yen Chefs Association, said that Phu Yen chefs have coordinated with the chefs in Ho Chi Minh City Association to organize a successful show beyond imagination. "Ocean tuna can be processed into many dishes combined with local ingredients and spices. Within the framework of the festival, the two dishes that guests are invited to enjoy directly are fillet salad with wasabi and tuna soup cooked with Phu Yen ginseng", said chef Van Bong.
According to Chairman of the Vietnam Chef Association, Mr. Nguyen Thuong Quan, ocean tuna is processed in many dishes, but the most famous and popular are fillet salad with wasabi and tuna's eye cooked with medicinal herbs, which is a symbol typical culinary product of Phu Yen tourism. This program has effectively promoted and introduced Phu Yen tourism and cuisine to travel agencies, domestic tourists and international friends.
Ocean Tuna Festival
For a long time, people who are passionate about Phu Yen tourism have always wondered about a typical local festival, in which tuna can be considered as a symbol of culinary culture to build into a festival. A festival to honor the traditional profession of catching tuna, a festival of unique culinary dishes, thereby contributing to enriching tourism products and introducing them to domestic and foreign tourists.
Ms Nguyen Thi Hong Thai, Acting Director of Phu Yen Department of Culture, Sports and Tourism, said that the culinary demonstrations and promotions of dishes from tuna in Hanoi, Ho Chi Minh City and Phu Yen province always receive the attention and interest of tourists and culinary and tourism experts. "We have been focusing on investing and upgrading culinary demonstrations into larger-scale events such as setting a record of tuna dishes, affirming the brand, and forming a tuna festival," said Ms Thai.
Exploiting the strengths of cultural characteristics, including culinary culture, to develop tourism, introducing tourists to traditional and unique cultural values ​​of the locality is very necessary. Hopefully, right in the Culture – Tourism Week in 2022, visitors and residents will witness and experience a demo of the tuna festival featuring Phu Yen's culinary culture and become special ambassadors of the Tourism industry.
Source: Phu Yen Newspaper
Translated by TRINH THUY