In the early days of the Spring of Nham Dan Year – 2022, the number of people coming to tourism areas increased dramatically. Tourism spots in the province, monuments and landscapes are crowded with tourists, most hotels and accommodation facilities are fully booked during Tet festival.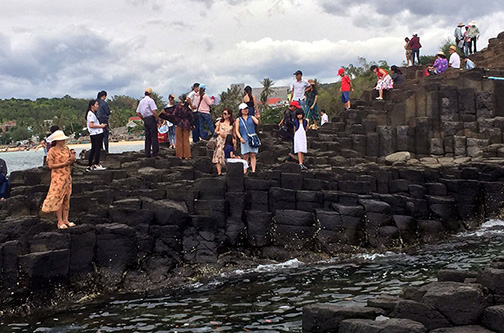 A large number of tourists visiting the special national relic of Da Dia reef
Recorded by reporters and quick reports from tourism business establishments, accommodation, dining places, entertainment areas and tourism destinations during the Tet holiday, Phu Yen province has attracted and welcomed a very large number of visitors coming to check-in and use the service. Check-in points are decorated by Tuy Hoa city to welcome Tet festival (Youth Park, marine park, flower street, etc.), scenic spots and relics in the province (Da Dia reef, Nhan tower, Mon beach – Dien cape, etc.); tourism attractions, entertainment, and cuisine in the province are crowded with tourists; in particular, Quang Duc Xua cultural and tourism space, Hon Xua (Tuy An district), Moc Mien Rocky Garden (An Chan commune, Tuy An district), Song Ba Farmstay (Ngoc Lang commune, Tuy Hoa city), etc. are all very crowded. In some places, there is a local overload of visitors in some specific times.
According to Ms Nguyen Thanh Thuy, owner of Moc Mien Rocky Garden, before Tet festival, the establishment has started, approached customers with rural tourism products and has received very positive signals from the domestic market for spring tourism. "It's very happy and surprised that the market for Tet tourists was so crowded, from the 1st day of Tet festival, the homestay chain of Moc Mien has received guests (mainly from Hanoi, Ho Chi Minh City) and booked rooms until the first half of the lunar first month. With the space of garden houses, the countryside and the experience of Tet holiday in the countryside, visitors are very excited, suitable for an "covid-19-escaping" Tet holiday", said Ms Thuy.
One of the new tourism products put into service for visitors during the Lunar New Year of Nham Dan is the experience check-in point of Song Ba Farmstay. Mr. Ngo Van Dinh, owner of Song Ba Farmstay, let known, "From the 2nd  day to 6th day of the Lunar New Year, Song Ba Farmstay was open to serve guests checking-in the blooming sunflower garden, with over 2,000 arrivals on peak days. The establishment will continue to improve its country cuisine, accommodation and other experience services to put it into operation and serve tourists during the upcoming peak tourism season".
Not only tourism in Phu Yen province, tourism throughout the country in the first days of the Lunar New Year of Nham Dan is also very exciting, many key tourism destinations are also overloaded. The reason is that after a long period of influenced by the pandemic, on the occasion of the 9-day Tet holiday, people had travel plans to relax and rest.
However, the overcrowding of tourists, traffic jams, entertainment venues, and overcrowding have made many people worried, when the COVID-19 epidemic is still at the risk of infection, outbreaks, especially the very rapidly spreading strain of Omicron, it may appear new mutated strains. That context requires all levels, sectors, localities and individuals to raise vigilance, take care of themselves and the community, comply with 5K and vaccines.
In the above context and good signals from the beginning of the year, Phu Yen tourism industry has actively been preparing for recovery activities right after Tet festival. Enterprises continue to invest, take care of products and services, restore human resources and labor in departments. Localities and state management agencies in charge of tourism actively prepare for tourism advertising and promotion activities. Ms Nguyen Thi Hong Thai, Acting Director of Phu Yen Department of Culture, Sports and Tourism, said: "As soon as the COVID-19 epidemic was controlled in the province, the department organized activities to reconnect the tourism market with the tourism sector of Ho Chi Minh City, welcome the famtrip group of Tay Ninh province and some other provinces. In the coming time, the province's tourism industry will continue to restart the association program to stimulate tourism in the Central – Central Highlands region and the 4 provinces of Phu Yen, Binh Dinh, Dak Lak, Gia Lai; participate in International Tourism Fair – VITM Hanoi; welcome delegations to survey destinations, connect new tours in the province; organize Phu Yen Culture – Tourism Week, the 11th Festival of Culture, Sports and Tourism of Phu Yen Province's Ethnic Groups; Phu Yen Culture – Tourism Day in Hanoi and participate in a number of tourism promotion events of the provinces and cities".
The sharp increase in the number of tourists to Phu Yen province during the Lunar New Year is a good sign for the tourism industry after a long period of crisis. This is also an indicator that the adaptive, safe tourism and the psychology of tourists has been relieved when the epidemic is under control and each person well implements epidemic prevention and control measures. There is a good expectation of tourism activities in 2022, a basis and motivation for the whole industry to be more active in implementing solutions to recover and develop tourism soon.
Source: Phu Yen Newspaper
Translated by TRINH THUY