With 22 years taking photos, the artistic photographer (AP) Le Chau Dao has won hundreds of gold medals nationally and internationally; his astonishingly nice photos have been displayed at over 1,000 domestic and international exhibitions.
Recently, with the photo collection titled Along the coastal line of Phu Yen, AP who comes from Tuy An has won the first prize at the national artistic photographs on sea and islands of the homeland in 2021 with the name "The nation by the sea wave", his another photo collection-the profession of net catching of white anchovy" also won the consolidating prize, at the same contest.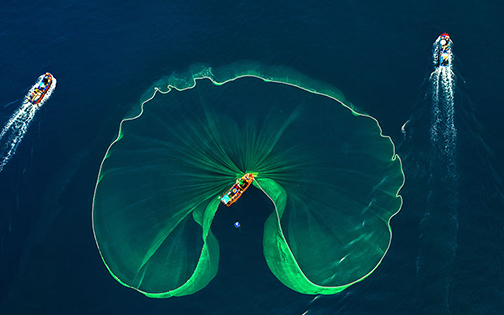 Catching anchovy with nets-one artistic photograph in the photographic collection titled The profession of catching anchovy with nets
Phu Yen Newspaper interviewed AP Le Chau Dao, head ot Vietnam AP association in Phu Yen province, after he won the prizes and came back from Ha Noi.
 * Can you share about the special memories along the journey of implementing the photographic collection along Phu Yen coastal landscape?
– I have taken quite a lot of photos on the coastal region, from landscape to everyday life. 1 month has only 30 days whereas I spend 15 days taking photos along the regional areas. Phu Yen coastal region is picturesque, and the daily activities in these regions are so great and this creates the aspiration for APs to compose.
Once knowing about the contest "The nation by the sea waves", I thought of the idea of implementing a photographic collection to enter the contest, with the purposes of advertising the beauty of Phu Yen sea and islands. I implemented this photographic collection from February to mid-June 2021. It was quite hard when it came to taking these photos, by that I mean from 4 am, I came to Xuan Hai quay in Song Cau town, because I had to be there by 3pm to take photos. After taking photos at Xuan Hai quay, I moved to Song Cau, I took photos of Hoa An sea and islands, so picturesque.
I went to Nom islet, using flycam to record the photos of Cu Mong loon and Bai Tram. I had to travel quite many times to take photos of Cu Mong lagoon because some days, I did not see nice days with nice clouds. Going to Vung Me, Vung Chao, I asked a companion, who went with me from 3a.m, in the afternoon, the sun shone, we arrived at the spot, using flycam, we took 3 shots, then the sky got dark; we came back home. We had also go at 3 a a.m to take photos of Ganh Den. It was also really labor intensive, i.e we had to use lights to lighten up Ganh Den for photo-taking. After that, I went to Phuoc Dong fishing port in Tuy An, with Lao Mai Nha far away, and Yen Islet, the national scenic spot. How lucky I was that day, the flycam was flying when there were some canoes running and creating the rear waves. It was thanks to using flycam from offshore that we could have the photos of Yen islet similar to a whale on sea wave, with fishing vessels and Yen fishing village inside. To take another photo of Nghinh Phong tower in Tuy Hoa, I went in two nights and one morning and finally took the photos of sunrise, and another time when the sun "entered" between the two tower columns.
* You did say young APs not only have the passion but also invest in modern and state-of-the-art technology, whereas the older generation like your generation can not keep pace with. But via your works, particularly via the two items entering the contest "The Nation by the sea wave" and winning the prizes, it shows that you have invested and got access to technology". What do you say about this?
– I am still healthy and owning the great passion in composing. Now, we and our generation have to get access to technology. I asked one AP to instruct me to process the photos with softwares. This AP is both young and talented. We met at the composing camp and after that we composed together. I shared with him my experiences in composting and he helped me get access to the modern software and technology.
Source: Phu Yen Newspaper
Translated by HAI LOAN