On the evening of July 28th, at Nghinh Phong Tower Square (Tuy Hoa City), Phu Yen Culture – Tourism Week 2022 was officially started with the opening ceremony and a special art program, attracting a large number of tourists, visitors and people in the province.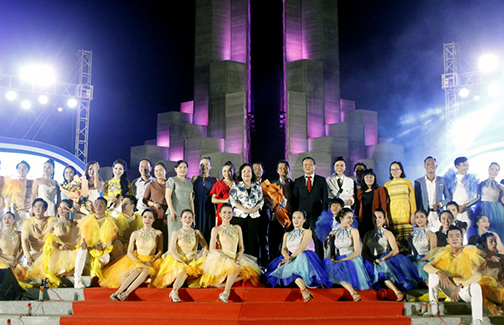 The Provincial leaders are giving flowers and taking souvenir photos with the artists
Phu Yen Culture – Tourism Week 2022 is organized to create a joyful atmosphere among of all people classes on the occasion of the 33rd anniversary of the re-establishment of Phu Yen province (July 1989-July 2022); introducing the unique culture of Phu Yen province, promoting tourism potential, attracting investment, contributing to the recovery and stimulating demand for tourism development after the COVID-19 epidemic; promoting the image and special cuisine of tuna to domestic and foreign tourists, honoring the tuna fishing of Phu Yen fishermen, encouraging fishermen to continue reaching out to sea.
Phu Yen is the cradle of tuna fishing in Vietnam. From the golden pieces left behind by foreign ships at sea, fishermen working in fly nets in Ward 6, Tuy Hoa city have learned, adjusted and developed a very effective tuna fishing technique. Since 1995, the tuna fishing has started to develop strongly, bringing high economic efficiency, stimulating fishermen to stick to the sea. Phu Yen tuna is supplied to domestic and international chains and restaurants. Culinary products from ocean tuna have become a specialty of Phu Yen – a special ambassador of  tourism industry – known to domestic and international friends.
That's why the organizers chose the theme of this year's Culture – Tourism Week as "Ocean Tuna – Essence of the sea".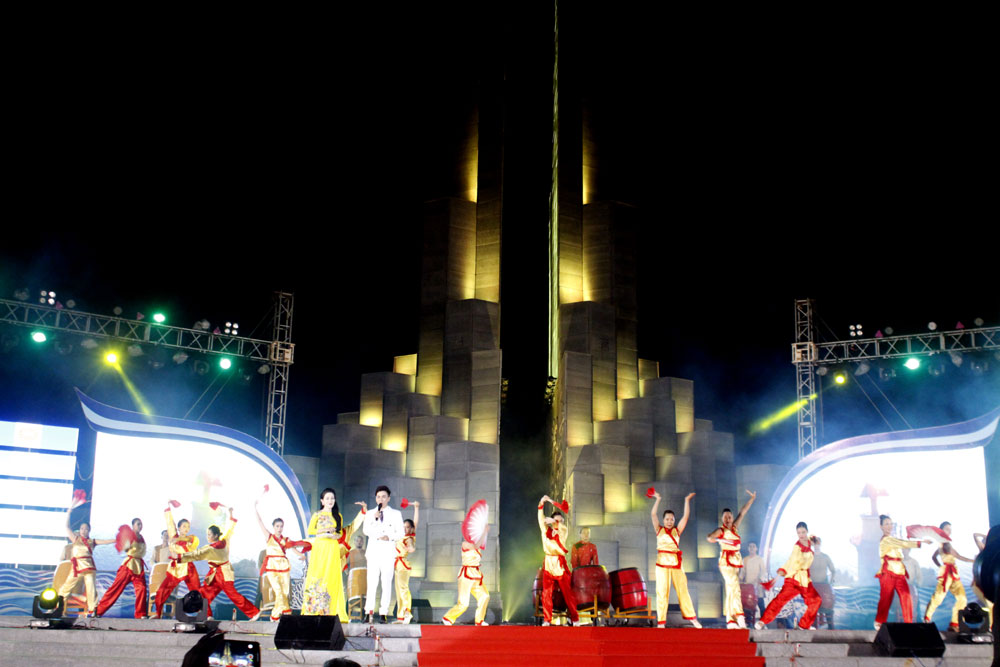 The opening art performance in the opening ceremony of Phu Yen Culture – Tourism Week 2022 at Nghinh Phong Tower Square
Addressing at the opening ceremony, Vice Chairman of the Provincial People's Committee – Mr. Dao My informed: Phu Yen wishes to affirm the tourism brand "Attractive and friendly destination" for tourists. At the same time, creating a change in awareness and actions of all levels, sectors and people in the province about the important role of tourism development. Phu Yen province wishes to make a difference, a new destination in the tourist map of Vietnam and the region with the characteristic of combining rehabilitation with exploring  natural landscapes; exploring marine ecosystems and coastal islands; stone culture tourism,… Phu Yen is also a green, clean, safe, attractive, friendly destination.
The Culture – Tourism Week will take place from July 28th-31st with a number of main activities: The event of establishing 101 dishes from ocean tuna on the afternoon of July 29 at PYTOPIA Wedding Convention Center; Phu Yen Bai Choi Art Festival – representative intangible cultural heritage of humanity.
Within the framework of the Culture – Tourism Week, a number of cultural and sport activities will take place in parallel, such as: National Aerobic Youth Championship 2022, on the morning of July 29 at Le Trung Kien Gym; Song Cau Lobster Festival 2022 will take place on July 30th-31st at Song Cau Town…
Source: Phu Yen Online
Translated by HAI LOAN