The Provincial People's Committee has just organized a culinary program to set a Vietnamese record of 101 dishes made from tuna at the PYTOPIA Convention Center (Tuy Hoa city), with the participation of nearly 100 chefs from provinces, cities in the whole country.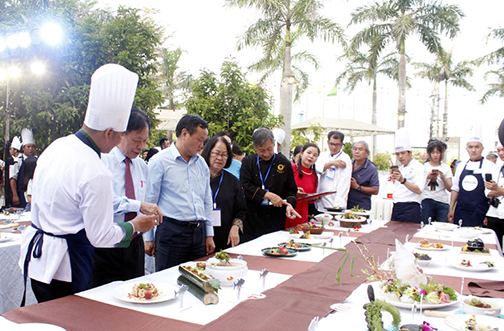 Leaders, appraisers and a large number of people and tourists are watching the program of 101 dishes made from tuna
With the theme: "Ocean Tuna – Essence of the sea", at the beginning of the program, Phu Yen chefs performed a tuna fillet performance right at the stage for everyone to witness. Immediately after that, 75 chefs from many provinces and cities in the country divided into 25 teams, 3 people each team, processed 4 dishes (only the chef of Kon Tum province team registered 5 dishes) and displayed 101 dishes from ocean tuna. The dishes invested by enthusiastic and creative chefs  made many people excited.
Ms Nguyen Thi Hong Thai, Acting Director of the Department of Culture, Sports and Tourism, informed that this is a cultural and culinary program contributing to introduce the close, friendly, beautiful and attractive image of Phu Yen province to domestic and foreign tourists.
According to Ms. Nguyen Thi Hong Thai, Phu Yen is the cradle of tuna fishing in Vietnam. From fishing lines left behind by foreign ships at sea, fishermen working in fly nets in Ward 6, Tuy Hoa city have learned, adjusted and developed a very effective tuna fishing technique. Since 1995, tuna fishing has started to develop strongly, bringing high economic efficiency, stimulating fishermen to stick to the sea. Since then, a large port and many large-capacity ships have been formed, Phu Yen tuna has been supplied for domestic and international chains and restaurants. Culinary products from wild tuna have become Phu Yen's specialty and are known by domestic and international friends.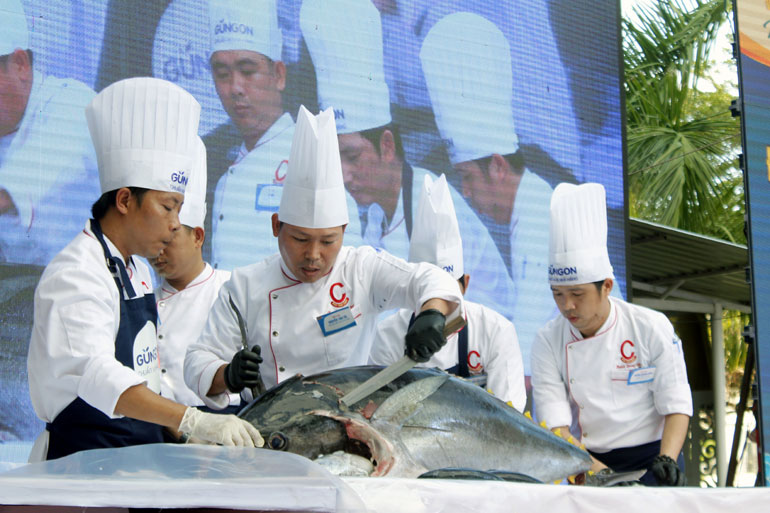 Phu Yen chefs are demonstrating the 55kg tuna fillet process within 10 minutes
Participating in the program, Mr. Chiem Thanh Long, Deputy Director of the Center of Research, Preservation and Development of Vietnamese Culinary Culture, said that so far, when mentioning Phu Yen cuisine, people remember the dishes made from tuna, has been voted top 10 unique seafood dishes of Vietnam.
"Through this program, chefs in the whole country will exchange and learn experiences in preparing dishes from tuna to enrich Vietnamese cuisine. At the same time, the cuisine from tuna will be a special messenger, contributing to introduce and promote Phu Yen tourism," emphasized expert Chiem Thanh Long.
Source: Phu Yen Online
Translated by HAI LOAN