Tourists arriving in Phu Yen in the recent years from the Central Highlands provinces, including Gia Lai, account for a large proportion. At this time, Tuy Hoa city has been making a connection to promote and bring Tuy Hoa beauty to Pleiku city through the Tourism Festival connecting Tuy Hoa with Pleiku in 2022.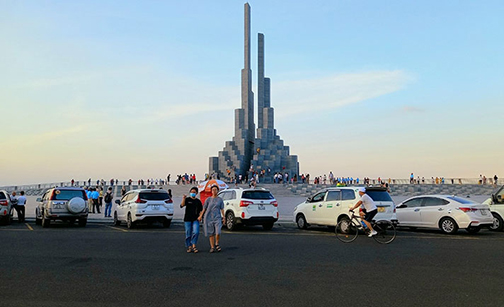 Nghinh Phong Tower- a new destination for visitors to check-in when coming to Tuy Hoa city
The Tourism Festival connecting Tuy Hoa city with Pleiku city 2022 aims to propagate, introduce and promote the land, culture, people, tourism potentials and strengths of the two provinces of Phu Yen and Gia Lai in general and the two cities of Tuy Hoa and Pleiku in particular, to attract investors, contribute to building the tourism brand of each city; create a premise to connect tourism in the coming years. Mr. Cao Dinh Huy, Chairman of Tuy Hoa City People's Committee opened the information to press reporters on the occasion of the meeting to celebrate Vietnam Revolutionary Press Day of June 21st. "We hope that journalists and reporters will accompany and strongly propagate this event as well as tours and tourism products of Tuy Hoa and Pleiku cities in the coming time," said Mr. Huy.
"Each locality has its own strength, we need to link to promote that strength. The event of the connecting tourism festival not only shows the connection between the two localities, but also serves as an important bridge to help tourism businesses, tourism products, and typical agricultural products connect and trade in favorable conditions, opening up a comprehensive and long-term development association", added Mr Cao Dinh Huy.
With the theme "The beauty of Tuy Hoa and the majesty of Central Highlands", the connecting tourism festival was organized by the two localities on a large scale, from June 24th to the end of June 26th, 2022.
Mr Phan Tan Hoang, Head of the Culture and Sports Division of Tuy Hoa city, said that during the connecting tourism festival, the two sides would coordinate to organize many activities in Pleiku city. The opening and closing ceremonies were held at Dai Doan Ket Square, Pleiku city. Within the framework of the program, there would be main activities such as: Performing culture of culinary specialties of Tuy Hoa and Pleiku cities; displaying, introducing, and promoting typical cultural, tourism and culinary products and OCOP products; playing an exhibition of paintings introducing economic, cultural and scenic achievements of Tuy Hoa and Pleiku cities; organizing tourism development association conference; conducting "Colors of music" exchange of tourism festival; visiting Pleiku city, etc.
Phu Yen Tourism Industry identifies the Central Highlands provinces in general and Gia Lai province in particular as an important domestic tourist market. "During the recent years, tourists from the Central Highlands provinces, including Gia Lai, accounted for a large proportion of the total number of tourists to Phu Yen. This is the result of the process of building products and promoting tourism. At this time, Tuy Hoa city organized a connection with Pleiku city, in order to promote cultural and tourism products between the two localities, which is a very good thing, especially businesses continue to link and cooperate in developing tourism and OCOP products, souvenirs. Phu Yen has enjoyed beautiful coastline, delicious seafood, rich cuisine, etc. Gia Lai has great mountains and forests, large farms, unique culture of the Central Highlands, unique cuisine, etc. These features will complement each other so that the two localities and businesses can link and cooperate to create rich tourism products combining sea – forests", said Ms Nguyen Thi Hong Thai, Acting Director of the Department of Culture, Sports and Tourism.
From a tourism perspective, Tuy Hoa city's initiative in bringing cultural and tourism products, OCOP, etc. and also the beauty of Tuy Hoa coastal town to exchange, promote and propagate in Pleiku city continues to open a new closely linked channel for mutual development. Mr. Ngo Van Dinh, Vice Chairman of Phu Yen Tourism Association, said: "Phu Yen has the advantage of owning a long, beautiful coastline and interesting natural destinations bestowed by nature along with a system of cultural heritages. (physical and intangible). In addition, pretty infrastructure, very cheap service prices, delicious food, etc. are the highlights for Phu Yen to attract tourists from Gia Lai and the Central Highlands provinces. In contrast, Gia Lai has the typical tourism products of the majestic mountain, the dishes imbued with the identity of the Central Highlands ethnic minorities, which is definitely a tourist attraction, in not only the two localities, but also many places at home and abroad".
Source: Phu Yen Newspaper
Translated by TRINH THUY