The outbreak of the COVID-19 pandemic has made many things change, including tourism trends. The choice of the majority of tourists has shifted sharply from enjoyment tourism with high-class and luxury services, in bustling tourist centers, back to the idyllic and quiet rural life in the fields, rivers, fish ponds, hill gardens with fresh air and slow pace of life.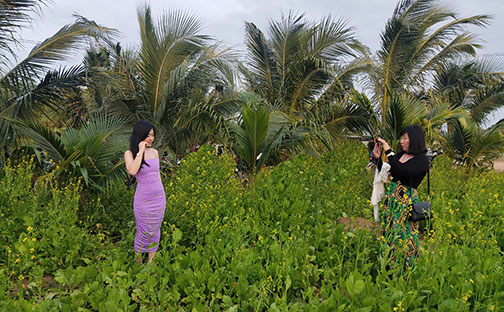 Tourists having photos taken at Song Ba Farmstay (Ngoc Lang vegetable village, Binh Ngoc commune, Tuy Hoa city)
This trend is very suitable for tourism in Vietnam in general and Phu Yen province in particular to have the opportunity to develop tourism products associated with agriculture and rural areas. Products from agriculture and rural cultural background have been typical tourism products that attract tourists to visit and experience.
As a coastal province in the South Central Region, in addition to the advantages of sea and islands, Phu Yen is a land of diverse topography, like a miniature Vietnam with mountains, forests, rivers, sea and plains. The main economy is still agriculture, the rural population accounts for 67.3% of the total population. Along with that, Phu Yen is also a land with a depth of cultural sedimentation and cultural interweaving of many ethnic groups,etc., which is very suitable for investment in developing agricultural, rural tourism as well as community tourism.
Ms Nguyen Thi Hong Thai, Acting Director of the Department of Culture, Sports and Tourism, said: The province's tourism development strategy identifies that the type of craft village tourism/community tourism/agricultural and rural tourism is one of five major product lines, which has been gradually realized by the province's Culture – Tourism industry, together with the rural community, linking tourism businesses to gradually restore craft villages to become tourist destinations: Ganh Do fish sauce craft village (Song Cau town), Hoa Da rice-paper craft village, Phu My coracle craft village (Tuy An district), Ngoc Lang vegetable village (Tuy Hoa city), Le Diem cultural tourism village (Song Hinh district), Hoa Ngai village (Son Hoa district), Xi Thoai (Dong Xuan district), etc.
During the recent years, anticipating the trend of the tourism market, many businesses in association with farmers have invested in building many new tourism products linked with agriculture and rural areas. Since then, two agricultural tourism cooperatives, namely An My Agriculture – Tourism Cooperative (Tuy An district), BB Agriculture and Service Cooperative (Son Hoa district) were born; and many other destinations, taking the natural space, mountains, forests, fields, coastal fishing villages, cultural characteristics of indigenous communities as the main factors to attract tourists.
Especially, recently, Phu Yen Communication and Tourism JSC has put into operation the agricultural tourist area of Song Ba Farmstay, right in Ngoc Lang vegetable village, along the Ba river (Tuy Hoa city) with garden houses of High-tech clean vegetables, check-in flower garden, circular restaurant with thatched roof, picnic area and country-style dishes. Here, visitors can camp, have fun on the riverside on the mudflats in the middle of the romantic Ba river, etc. During the Lunar New Year of Nham Dan, Song Ba Farmstay attracted about 2,000 turns of visitors a day to experience, check-in.
Currently, a movement has emerged to invest in agricultural and rural tourism products from mountainous, plain to coastal localities. The most typical example is on the DT643 route from Hoa Da commune to Van Hoa plateau (Son Xuan, Son Long, Son Dinh communes – Son Hoa district), many investors, businesses and people have been being excited to invest in the agricultural and rural tourism products associated with the advantages of temperate climate and mountainous cuisine – the tourist attractions.
According to Director of the Department of Agriculture and Rural Development, Mr Nguyen Trong Tung, from the program of building new rural areas, many agricultural economic models associated with tourism have brought with initial effectiveness, including OCOP products. The combination of bringing tourism products and the OCOP program, agricultural products is the right and effective direction to improve income and life for farmers; preserve and promote the unique cultural values ​​of rural communities.
So far, Phu Yen has had 18 OCOP products; in particular, 2 products have been awarded the 4-star OCOP certificate, which are tourism products to experience community culture at Moc Mien Rocky Garden (An My Agriculture – Community Tourism Cooperative) and Huong Chon coffee (Huy Tung Limited Company). Phu Yen province also set a goal that by 2030, the One Commune One Product Program will strive to build brands for about 24 key products, standardize 57 existing rural products and services, develop 25 new products; forming from 3 to 4 eco-tourism villages; at least 3 OCOP products getting 5-star grade at provincial level, 1 product with 5 stars at national level.
Source: Phu Yen Newspaper
Translated by TRINH THUY